Report # 13115 (Class A)
Submitted by witness on Thursday, November 24, 2005. Daylight sighting by a backpacker on Silver Star Mountain (See Photos)
YEAR: 2005
SEASON: Fall
MONTH: November
DATE: 17
STATE: Washington
COUNTY: Skamania County
LOCATION DETAILS: Top of Silver Star Mountain.
NEAREST TOWN: Washougal, Wa.
NEAREST ROAD: Service road 4109
OBSERVED: I was looking to the south from the summit of Silver Star Mountain. On the ridge across from me I saw something I thought looked a little strange. I got out my camera and took some pictures.
Right after I took the first shot it moved or stood up so I took another picture. It then moved towards the south, away from me. I then had to reajust because the wind was so strong. It was difficult to move because the snow was waist deep.
I got closer to a rock to steady myself and took another picture. It was then was moving down the hill.
I don't think it was another backpacker or snowshoer.
OTHER WITNESSES: No one else there.
TIME AND CONDITIONS: 4:30 to 5:00 pm Clear and cool
ENVIRONMENT: It was cold and windy but very clear. On a ridge. I have pictures to show the type of day and location.
Quote:
Interesting Photos
Location : Silver Star Mountain, Washington
Date : November 17, 2005
Attachment:
29_crop_Silver_Star_Mt._029.jpg [ 34.12 KiB | Viewed 6603 times ]
Attachment: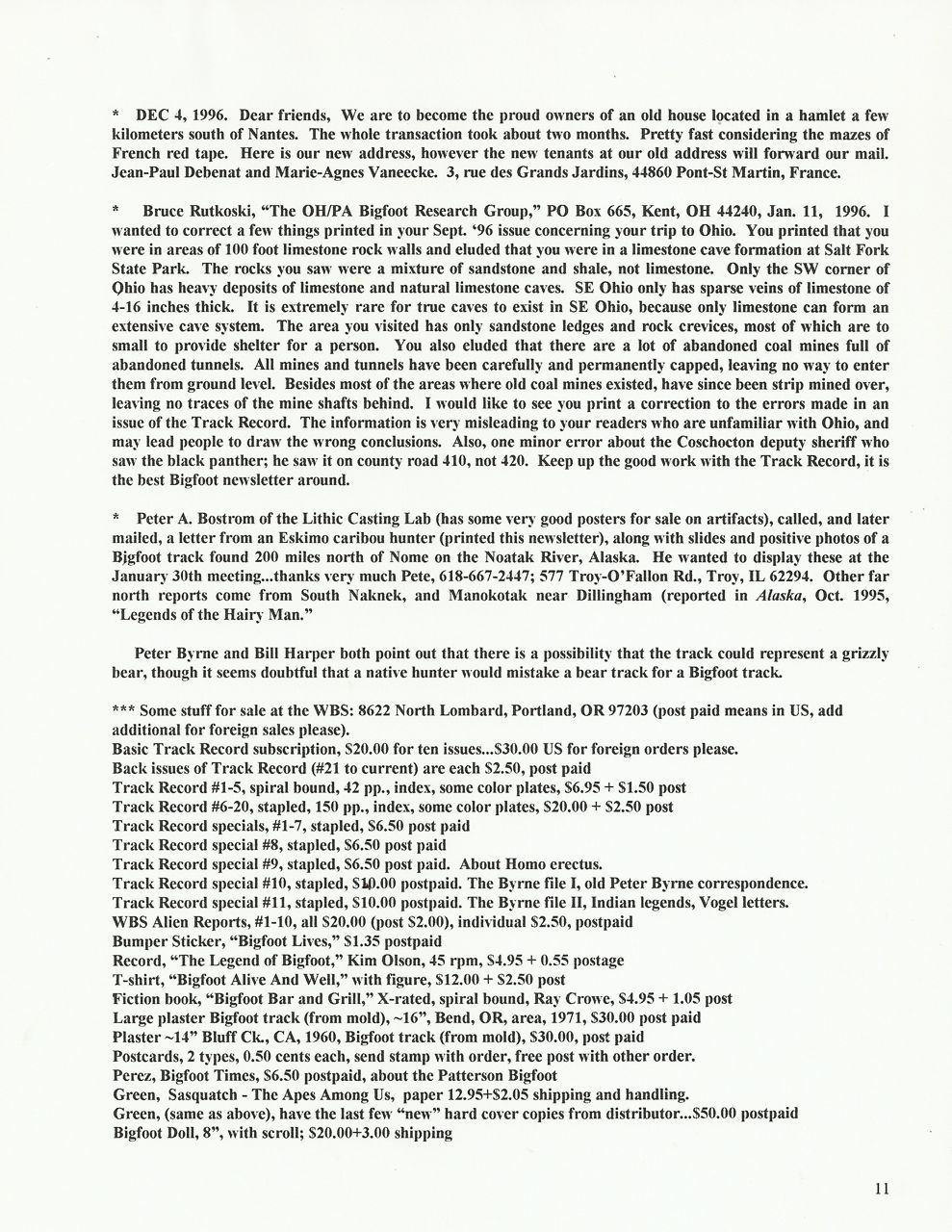 29_icon_Silver_Star_Mt._029.jpg [ 40.44 KiB | Viewed 6603 times ]
Attachment:
30_crop_Silver_Star_Mt._030.jpg [ 30.08 KiB | Viewed 6603 times ]
Attachment:
30_icon_Silver_Star_Mt._030.jpg [ 38.94 KiB | Viewed 6603 times ]
Attachment:
sterner_silver_star.jpg [ 142.22 KiB | Viewed 6603 times ]
Attachment:
map_link.jpg [ 69.91 KiB | Viewed 6603 times ]
November 17, 2005 - outside Yacolt, WA
A backpacker from Vancouver, Washington, took these photos on Silver Star Mountain in Gifford Pinchot National Forest on November 17.
He says he doesn't know what the figure was, but he does not believe it was another hiker or backpacker.
The photos are inconclusive, but they are potentially relevant.
The figure you see could be a sasquatch. The silhouette is comparable to the lanky silhouette in the Marble Mountains footage. It also looks similar to some eyewitness sketches.
As in the Marble Mountains footage , there's nothing in the outline to indicate that it's another person (except for the upright posture). There's no lines indicating clothing or a pack. The lump on the neck could easily be a clump of hair, similar to what you can see in the PGF.
Most snowshoers or backpackers in these conditions would look different than this silhouette. It will be useful to compare images of an equipped snowshoer or backpacker standing at this same spot at the same time of day. We're hoping a few different people will heed our recommendation and go up there to get some comparison photos.
The terrain and present conditions helps and hinders attempts to get more photos/footage in this area. Deep snow on the ridges makes it more difficult for a photographer to move around up there, but it also makes it easier to spot trackways and movement.
It won't hurt to suggest to people in Washougal and Yacolt to carry a camera when driving around.
BFRO investigator John Callender interviewed witness (initials RC) near his home on Friday, November 25, 2005.
John says, in his opinion, RC is honest and credible. His locale and normal activities would have put him in a position to get these photos. The story and photos do not appear to be hoaxed.
The photos shown above left, were down-sized and compressed versions of the original digital images. The actual full size original images would fill your entire screen.
We did have the originals linked to the images on the upper left for some time. We had to de-link them recently (early March 2006) because of their large file size. Too many people were downloading these 300KB+ images, or posting direct links to these images on message boards around the world. That's not a bad thing, but it was bogging down the server. It was the main factor that led to the most recent, temporary shutdown of the BFRO site.
We will still make those originals available, but not by clicking images. That's too easy. It leaves us vulnerable to Asian "tsunamis" -- a huge wave of hits from Asia.
Occassionally the BFRO site is mentioned on television shows and major web sites in Japan, China, Malaysia, and India. When that happens our server gets hit by a huge wave of hits from Asia, which will cause the site to shut down.
If you can figure out the instructions below, you will be able to get the originals:
In a browser window, go to the BFRO homepage, then add the following to the URL: /avevid/calender/Silver_Star_Mt._029_orig.jpg
To see the other one, change 029 to 030.
The originals were copied by our own investigator straight off RC's digital camera.
The clarity of these shots is nowhere near Patty, but the images are clearer than any frames in the Manitoba footage.
The shape, the location and the circumstances, make the photos interesting enough to release publicly.
Obviously there's a potential for more photos like these in this area. The area is inaccessible to most people for much of the year, and there's little risk of the area being overrun by people during the rest of the year.
The photographer is allowing these photos to be reprinted in legitimate, serious newspapers -- any non-entertainment newspapers, or news web sites, or wire services (e.g. AP, AFP, Reuters, BBC, etc.). In other words, they cannot be freely reprinted in tabloids, or newsletters, or magazines, or books. The large versions of the images linked above are the original images from the digital cameras. Those originals can be saved, and re-sized, and reprinted without asking us permission, but only for the specific publishing mediums defined above.
Other uses must be approved by the photographer. Please email us at
Contact@BFRO.net
to make those types of arrangements. We want the photographer to get paid if there's any commercialized publishing involved.
Copyright © 2011 BFRO.net
Follow-up investigation report by BFRO Investigator John G. Callender:
Click here for the page showing the photos, and mentioning follow up recommendations.
I drove to Vancouver, WA last night and met with the witness and his son regarding this report. He is 48 years old. He does a lot of solo backpacking.
On the day of November 17, 2005, he decided to solo backpack at Silver Star Mountain, just north of Washougal, WA.
While on the summit he noticed a rock that looked strange and out of place. He said, "I've been up there enough to know every big rock along the way, and this rock didn't look like something that I've seen there before".
He got out his camera (a Sony 3.2 mega pixel) and took a photo. As he was doing this the figure suddenly stood up and started moving.
The witness ("RC") felt that he wasn't in the best position for additional photos so he moved along the trail as far as he could move. He was in waist-deep snow. He noticed that it was much more difficult for him to move than the figure. The figure seem to step around easily in the snow.
He was able to shoot two additional photos before it disappeared out of sight over the top of the hill.
The witness stated he never attempted to look for tracks. The snow was too deep at the summit to move around easily.
About BFRO Investigator John G. Callender:
John Callender hails from Mississippi where he received a BA degree in Accounting from the University of Mississippi (Ole Miss). He now resides in Seattle, WA where he works as a pilot for a major airline. John has done extensive field work in the Pacific Northwest, as well as Mississippi, and he has attended the following expeditions: WA - Oly Pen (Aug. '04); New Mexico (Jicarilla Apache SEP '04); WA - Oly Pen (October '04); CA - Redwoods (May '05); WA -Oly Pen -3, (AUG '05 ); WA Cascades Expedition (AUG '06); Central Oregon Expedition (JUNE '07), BC, Vancouver Island Expedition (SEPT 2007), WA Cascades Expedition (June '09), 2009 Washington Olympic Peninsula Expedition
.