Summer 2004?
I had a palomino mare out here that started getting real jittery about the back pasture.
She would come running up to the front pasture like the devil was after her. She got
so nervous out here that I sold her in (I believe) 2005.
Summer 2006
There was a tree with two trunks that had both trunks twisted and broken at about the
4' level. The tree was small and was located behind my house on the other side of the
woods. I considered it odd to be bent and twisted like that, but didn't think any more
about it. Photo was taken.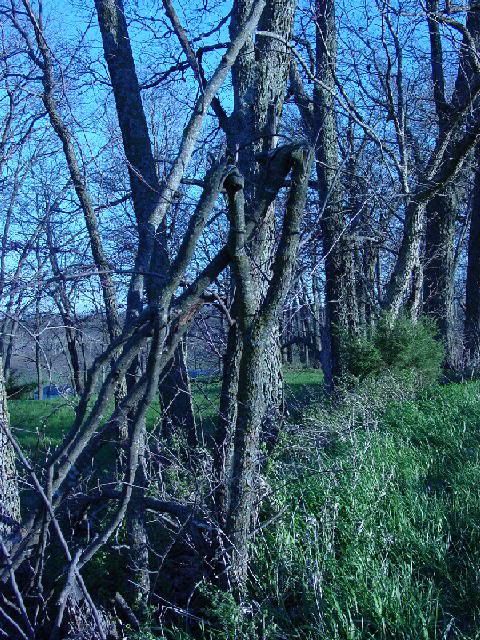 My Bigfoot interest and adventure started in 2006 when I was taking my usual walk out to the
pond beyond the barn. On this summer day I got just past the barn when a scream stopped me
in my tracks! Looking over to the west where there is a line of trees, I saw one of the
trees shaking quite violently. The "tree shaker" could not be seen in the shadows but the
scream was probably heard by folks in town 1/4 mile away, it was a sound like no other I
have ever heard. This scream was a combination of a VERY loud cougar and a high pitched
womans scream. It was as if you dubbed one on top the other so they came out at the same
time. The outcry lasted longer than any cougar sound. I didn't have a weapon with me so I
turned around and went back to the house. After searching the internet for a
considerable length of time, I ended up at BFRO asking questions of the hunters there.
Late in the year I found one footprint in the dirt on a hill. Print was very clear on the
toes and light on the heel end. Print was approximately 11" long. Unfortunately no photo
was taken and I did not think I could cast it because it was going up a hill.